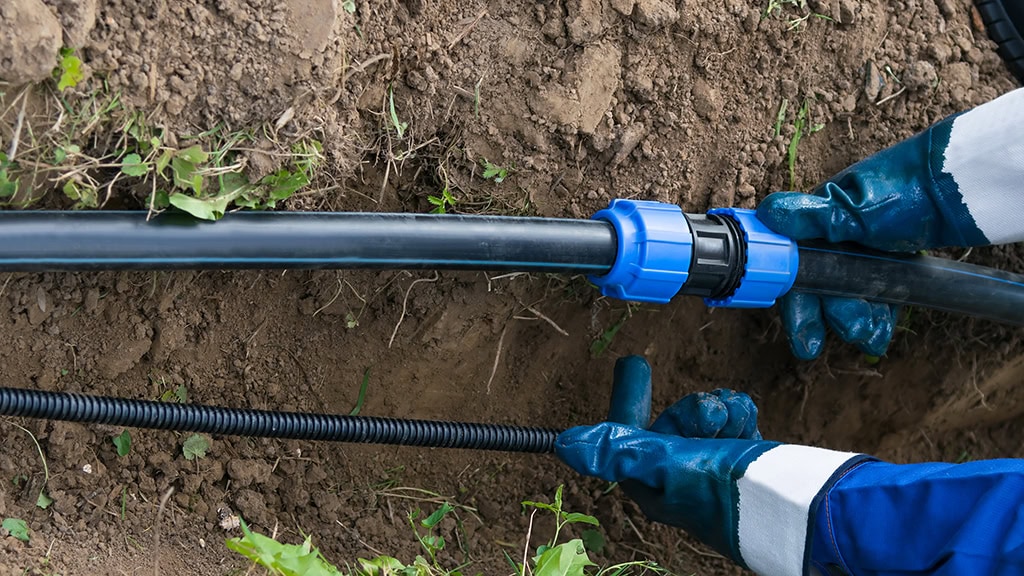 Your Conroe, TX, home's plumbing system has two main lines: your sewer line that removes waste from your home—and your water supply line, which delivers water to smaller pipes so it can reach your home.  If there are problems, waterline replacement might be necessary.
You probably don't think too much about your Texas home's main water line—unless there's a problem. Whether there is an issue with your waterline and you need a repair or replacement, or you have a new property that needs to be connected to your city's water system, Milton Frank Plumbing & Cooling handles it all.
Our licensed and trained Milton Frank Plumbing & Cooling professionals are proud to offer waterline replacement services to the Conroe, TX, area. We are available 24/7 for emergencies and will arrive in no time to handle a waterline issue. Just give us a call!
Waterline Replacement Services in Conroe, TX
Your waterline needs to be installed properly for it to work safely and correctly. If your water is discolored, you are experiencing low water pressure or pipe corrosion, or you suspect your water line is broken, you need your waterline inspected by a professional.
Our Milton Frank Plumbing & Cooling professionals can evaluate your waterline and determine if a repair or replacement is needed and take care of it for you.
When it comes to replacing your waterline, you need a team of knowledgeable and trained professionals you can trust to remove and replace the waterline the right way, and that is exactly what you can expect from our experts!
What Causes Damage to a Waterline?
Your main waterline is strong and designed to last for approximately 20 to 50 years with proper maintenance—but if it is damaged, you may need waterline replacement services.
Your waterline could be damaged by the following:
Tree root intrusion—Tree roots could grow into and interfere with your waterline, preventing it from working properly.
High water pressure—A high water pressure could cause your pipes to burst and warrant a complete replacement.
Pipe corrosion—Most pipes are made of metal, which means they will start to rust and become more susceptible to plumbing problems over time.
Extreme temperature changes—Frequent temperature changes can cause your water pipes to contract and expand, which may result in cracks and damage.
Frozen pipes—When your waterline freezes, the water becomes ice, and this puts pressure on the pipes, which may cause them to burst.
Improper installation—Your waterline will only work as properly as it was first installed. If your waterline wasn't installed properly, to begin with, you can expect problems down the road, which could mean you need waterline replacement services sooner than expected.
Replacing Your Waterline
When your waterline needs to be replaced, Milton Frank Plumbing & Cooling can help you every step of the way. We install, replace, repair, and maintain waterlines and can ensure your pipes operate efficiently for many years to come. Our experts pay close attention to detail and perform all work safely, properly, and promptly.
We can replace your water pipes with a stronger material and recommend the best way to protect them from the impact of a major drop in temperature to prevent them from freezing and bursting. For all your waterline needs, look to Milton Frank Plumbing & Cooling.
Let Us Handle All Your Waterline Needs
When your Spring, TX, home needs a waterline replacement, Milton Frank Plumbing & Cooling is happy to help. Let our experts step in and replace your pipes. Call us at 281-645-5905 or request service online.
Need Sewer Line and Waterline Replacement Service?
Contact the experts at Milton Frank Plumbing & Cooling.
"Milton Frank's plumber Matt installed a new whole house filtration system. Matt's work was perfect, he left the area clean and he fully explained the operation of the system. I give Milton Frank and Matt my highest recommendation."
- Steven V.