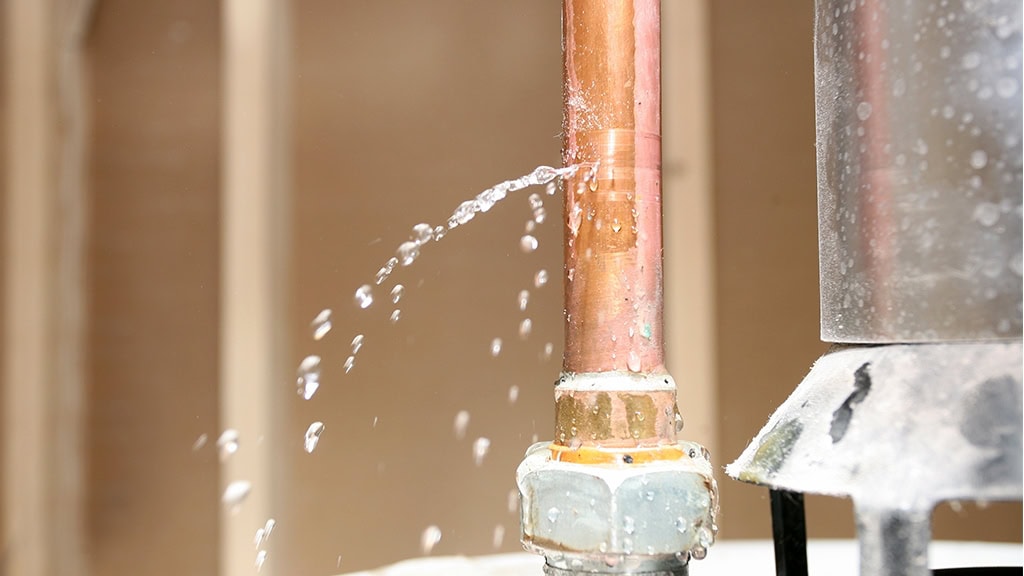 Dealing with a water leak in your The Woodlands, TX, home can be a headache. Leaks can damage your property, increase your water bill, and even pose a safety hazard. It is why leak detection services are so important.
Milton Frank Plumbing & Cooling is here to help you detect and address these leaks! Our experts have the tools, training, and knowledge to provide the water leak detection services you need to ensure a safe and functional home.
Whether you suspect there is a leak in your Texas home or you are purchasing a home and want to check for any existing leaks, our experts can help. Call us to schedule your water leak detection service today.
How Our Milton Frank Plumbing & Cooling Professionals Perform Our Leak Detection Services
Our leak detection experts use a variety of tools and techniques to detect water leaks in your home. We will begin by conducting an inspection of your home and property, and then check for any signs of water damage or moisture. If we pinpoint any areas of concern in the beginning or during the process, we will inform you and recommend the best way to proceed.
Signs of a Leak
There could be a leak inside your home if you notice any of the following:
Dripping sounds
Mold and/or mildew growth
Wet spots on your walls and/or ceilings
Low water pressure
Higher water bills than usual
Whether you suspect or are certain there is a leak in your home, our Milton Frank Plumbing & Cooling professionals can confirm it by using innovative technology to pinpoint the exact location of the leak. Once we identify the location and source of the leak, we will repair it as quickly and efficiently as possible. Don't delay turning to our plumbing professionals!
What Equipment Is Used to Detect a Leak?
Our Milton Frank Plumbing & Cooling professionals use a variety of different tools with our leak detection services, including:
Audio equipment—If a leak is present, the audio equipment will pick up the sound, which could be a dripping or trickling noise.
Infrared scan—An infrared thermal imaging camera can detect water leaks by capturing and revealing thermal images. This is an extremely effective way to pinpoint a precise location of a leak.
Visual equipment—There are visual video camera inspection tools, such as a snake camera, that allow our professionals to inspect the inside of your pipes. A camera is attached to the end of the snake so our experts can assess your plumbing equipment in real time.
Trenchless Leak Detection
Sewer line leaks can be a bit more tricky. Old leak detection services often involved digging up large portions of your property to locate and repair the leak. This process can be costly, time-consuming, and disruptive to your daily routine. Trenchless leak detection offers a solution that is less invasive and more efficient for you.
The best part? There's no mess for you to clean up.
Trenchless leak detection services involve advanced technology to locate leaks without the need for excavation. This method can help you save time and money, as well as avoid the hassle of having your yard torn up. It also reduces the risk of damage to your property and landscaping.
The many advantages of trenchless leak detection include:
Allows our professionals to pinpoint the exact location of a leak
Provides a way for our experts to inspect, diagnose, and address any issues
Offers a less invasive method for leak location rather than digging up your property
Supports quick and efficient service
How Trenchless Leak Detection Works
Trenchless leak detection is an innovative method for locating leaks without causing damage to your yard. We only use top-of-the-line equipment to identify areas of your property that are damp or wet.
In some cases, we may use more advanced techniques, such as acoustic detection, thermal imaging, or video inspection, to confirm there is no leak present or to locate the source of a suspected leak. These methods allow us to pinpoint the exact location of the leak but all without the need for any excavation.
If we perform a video inspection, this will involve inserting a small camera down into your pipes so we can see if there are any leaks or damage in real time.
Detecting and Addressing Water Leaks
Water leaks inside and outside of your home can be extremely frustrating, but with our Milton Frank Plumbing & Cooling professionals performing leak detection services, you can discover leaks and have them addressed quickly and efficiently.
If you suspect you have a water leak in your home, it's time to call our Milton Frank Plumbing & Cooling experts to schedule a leak detection service.
Schedule Leak Detection Service Today
Discover and address any present leaks in your The Woodlands, TX, home by scheduling leak detection services with our Milton Frank Plumbing & Cooling professionals. We'll keep your plumbing in top shape. Call us at 281-645-5905 or request service online.
Need Leak Detection Service Service?
Contact the experts at Milton Frank Plumbing & Cooling.